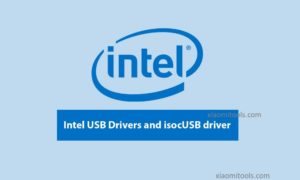 With the Intel Android* USB Driver package you can connect your Windows PC to your Android smartphone that runs on an Intel processor inside. You can use it to flash firmware on your phone. However, USB drivers for Android devices are platform-specific. The Intel USB driver may not work for every OEM device. But this is not an issue to worry about as Every smartphone manufacturer who builds devices makes compatible USB driver as well.
Below we have provided the download link to the Intel USB Driver. You can also follow the installation guide which follows the download section.
Now, let's check out which systems (both host PC and Android) support the Intel USB Driver.
Host Systems That Support Intel USB Driver
Windows® 10 (32/64-bit)
Windows 8.1 (32/64-bit)
Windows 8 (32/64-bit)
Windows 7 (32/64-bit)
Windows Vista (32/64-bit)
Windows XP (32-bit only)
How To Install Intel USB Drivers and isocUSB driver Setup
Here are the exact steps you have to follow to install the Intel USB Drivers.
Step-1 First you have to download the Intel USB Driver installer.
Step-2 Run the installer and accept the Windows User Account Control (UAC).
Step-3 You will see the setup wizard screen. Click Next to continue.
Note: If the installer detects an older version of the driver, first you have to uninstall it.