Open the folder where your TWRP Recovery .img file is saved.
First you have to power off your phone. Press and hold the Volume Down and the Power buttons, at the same time.
Then open a CMD window inside that folder. To do that, Shift + Right click on any empty white space inside the folder and then select Open command window here.
Connect your Android device to the PC. Type the following into the command window to boot your device into bootloader/fastboot 
fastboot flash recovery twrp.img
fastboot boot twrp.img
Many times when you own an Android device by a Chinese manufacturer, it is possible that most of the active development for that phone is done by developers in China. As TeamWin has contributors for the TWRP custom recovery from all over the world, it is very much possible for devs to keep the default language on the recovery as Chinese.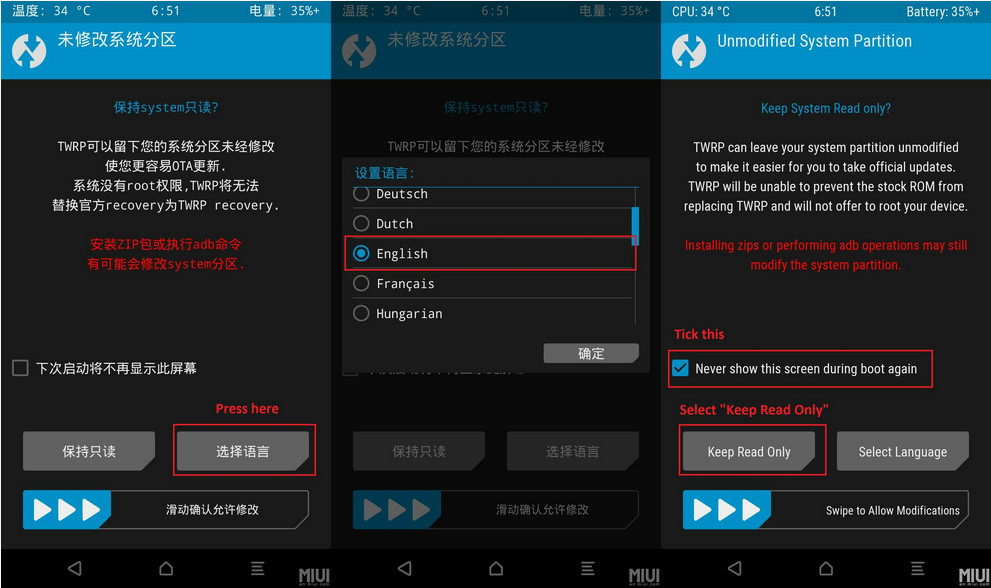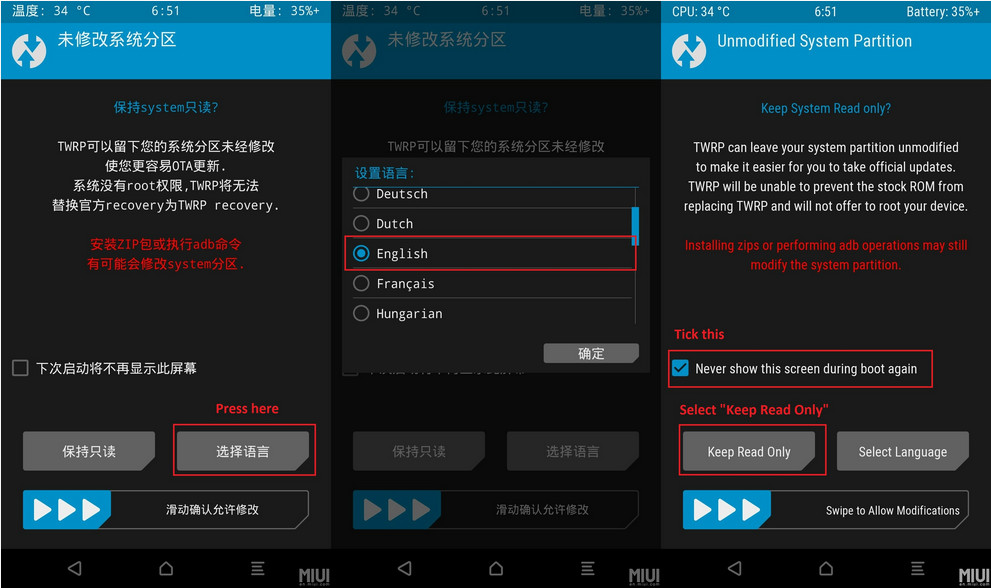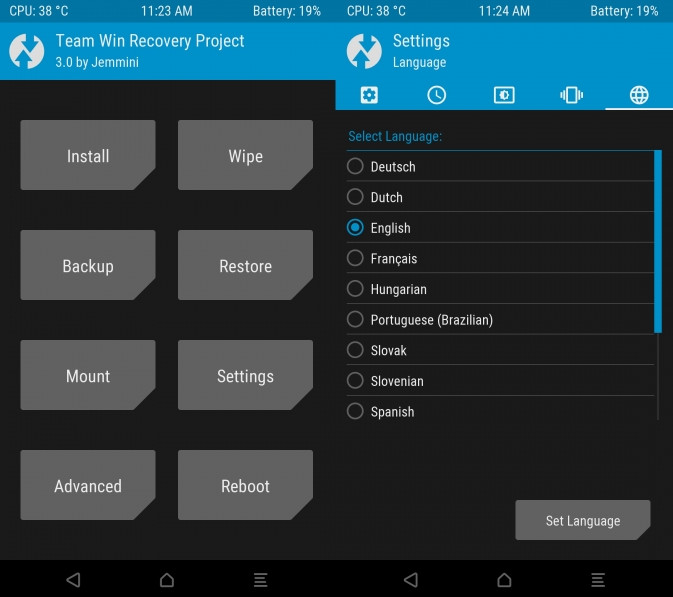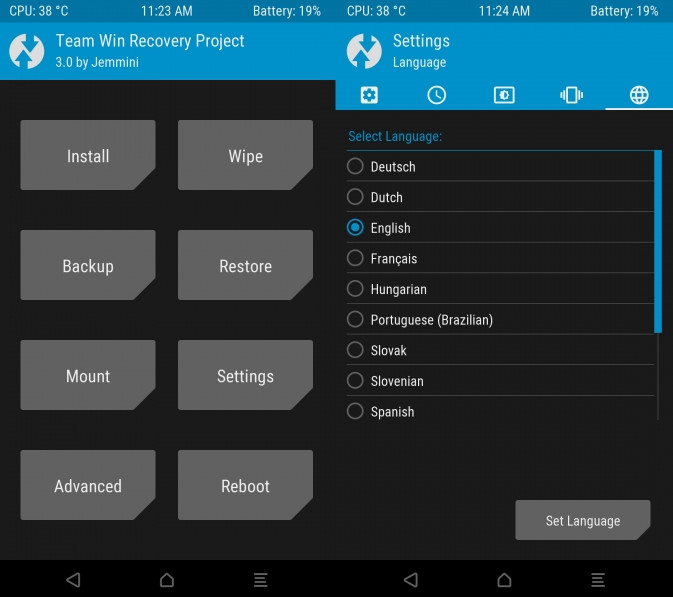 What is recovery?
Recovery is small piece of software that runs in the recovery partition on your device.
It is possible to boot into this partition, enabling you to power on and access the files on your phone without loading the Android OS. Because Android isn't loaded the Android system files are not placed in memory, which means they can be accessed, edited and replaced.
When you install a system update on your device, booting into recovery is part of the process. Every device has a stock recovery installed for this reason, but it has no user-accessible functions.
Replacing the stock recovery with a custom recovery such as TWRP (Team Win Recovery Project) gives you access to the parts of your device that were previously off limits. That's how you start hacking your phone.
TWRP vs ClockworkMod Recovery: which to choose
The two main stock recovery systems for Android are TWRP and ClockworkMod (CWM).
In most instances you won't need to make a choice between them; the rooting method you choose for your device will be based on the use of either one or the other.
TWRP and CWM have similar feature sets, and there's little practical difference between them. They do have different user interfaces and are not compatible with one another. A Nandroid backup made on one cannot be restored using the other.
Installing TWRP
As mentioned, you'll generally flash TWRP as part of the process of rooting your phone—it's not essential to have a custom recovery on a rooted Android device, but you'll be losing a lot of the benefits of rooting if you don't have one, not to mention the security of being to restore your device more easily should you encounter problems with any of your mods.
There are many methods of installing TWRP, including via fastboot on most Android devices (Samsung's being the notable exception).
Once you're rooted and have got TWRP installed you can update it simply by downloading a new version and flashing the zip. You can also try the app TWRP Manager for a quick method of updating.
Twrp
TWRP is touch optimised. The large icons in the main section of the screen are buttons, the back arrow bottom right takes you back to the previous screen and the home button bottom left takes you back to the main screen.
Boot into TWRP
The method of booting into TWRP differs from one device to the next. It normally involves a combination of key presses when starting the phone—most frequently holding one of the volume buttons and the power button simultaneously.
Check our earlier post on how to boot into recovery for guides on most popular handsets and manufacturers.
Reboot into Android
Rebooting is simply a case of tapping the Reboot button from the TWRP main screen.
You can select to reboot the System (Android), to Power Off, to reboot Recovery, or to boot to the Bootloader. This powers on the device but boots no software, and allows you to access a bricked device via a USB connection to your PC.
Twrp reboot
Flash a ROM or zip
One of the main uses of a custom recovery is to flash a custom ROM.
To do this in TWRP tap the Install button. Assuming you've copied a ROM (in .zip format) or other flashable zip file into the device's internal storage you can sue the Select Zip screen to locate and choose it.
Twrp select zip
With the zip selected you will be taken to the Confirm Flash screen. You can add multiple zips if you need to, by tapping the Add More Zips button.
When done you need to confirm that you're ready to flash by swiping your finger along the Swipe to Confirm Flash slider. As soon as you do this, flashing will begin.
Don't forget that you should always make a full Nandroid backup before you flash anything, no matter how innocuous it is. We'll get to the backup section shortly.
Twrp flash rom
Wipe data or factory reset
Next along the grid of options is Wipe.
If you flash a ROM, wiping at least some parts of the device, if not all, is necessary. (Follow the instructions for the ROM you're flashing for guidance on what you need to wipe.)
In TWRP the default option is a factory reset, which wipes the entire device.
Tap the Advanced Wipe button and you can choose the specific partitions to wipe—Dalvik Cache, System and Cache will be needed for most ROMs. Data will wipe your data, and is often needed. Internal Storage clears your internal store, and is something you would do for a full factory reset but is rarely needed when flashing a ROM.
Twrp wipe partition
Either way, make sure you've got your data backed up properly, and not just through a Nandroid backup. For an easy way of backing up and restoring app data check out our guide to Helium.
Again, once you have selected the partitions to wipe, you will be required to swipe the slider to confirm. There's no going back once you do this.
Make a Nandroid backup
A Nandroid backup is essential if you're hacking your phone. With a Nandroid backup you can restore your device to its previous state, undoing any attempted or failed hacks.
If you don't like a ROM you have flashed, or if your device fails to boot after flashing something, restoring the Nandroid backup is the quickest way of getting your device running normally again.
To create a Nandroid backup tap the Backup option and choose the partitions to include. In most cases you should choose System, Data and Boot.
Don't tick the Skip MD5 generation option, as this ensures the integrity of your backups and guards against errors when restoring them.
Twrp backup select
Swipe the slider to begin the backup process. It may take a while to complete, especially if you have got a lot of data that you are backing up.
Don't attempt to interrupt the process until it is complete.
Twrp backinh up
Restore a Nandroid backup
To restore a Nandroid backup tap the Restore button from the home screen and choose the backup from those listed. Swipe to begin the restore procedure.
Twrp choose restore
Mount partitions
In most cases you won't need to use the mount feature. This option enables you to mount specific partitions so that they can be accessed via ADB through a desktop.
Twrp mount partition
It is a niche feature with specific use cases. If you need it, simply tap on the partitions you need to mount.
TWRP Settings
Many of the Settings in TWRP are self-explanatory. We recommend using Zip file signature verification—this adds a layer of security to your flash able zips—as well as MD5 verification, to ensure that your backups are not corrupted.
Twrp settings
Advanced options in TWRP
There are a few options in the Advanced section of TWRP that are of use.
Twrp advanced
Fix permissions
Fix permissions can be used if you're encountering a large number of app problems, such as frequent crashes (and we mean frequent—it won't solve the occasional app force close).
Fixing permissions only takes a couple of minutes to complete, and there are no downsides to doing it.
ADB Sideload
ADB Sideload enables you to connect your phone to your desktop and sideload apps over ADB, which is available through the Android SDK. A common use of this is if you're replacing a system file with a tweaked version.
File Manager
The File Manager, as its name implies, is a tool for accessing the files stored on your Android device.
Wrap up
TWRP is a powerful tool that gives you full control over the insides of your phone without needing to boot into Android.
It can be used to flash custom ROMs or minor app mods, as well as to create and manage backups. Understanding how TWRP works and what you can do with it will make you far more confident when attempting Android hacks of various kinds. It's also worth keeping the software updated as new features, and an extra layer of user friendliness are added on a regular basis.